Cleric
Wiki Editors Needed! Click Here to Register Now!
From Fiesta Wiki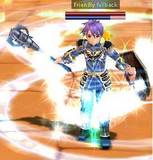 Description
Clerics aid fellow adventurers with the holy power of light and deal damage with ommands channeling holy wrath. The cleric can also bless his allies with magical shields and even increase their damage, making clerics an essential part of any raiding group. When a cleric speaks a word of power, you live or die.
Clerics can equip a hammer or mace and a shield. They can only wear armor specific to their class and level. Main attributes for Clerics focused on healing are Endurance (more hit points and defense) and Spirit (more spirit points). If you want to be a combat cleric, try putting stat points into Strength (to increase damage output), Endurance and Spirit. For your skill empowers (under skills button "K" key), focus on increasing damage output at first. This will help you in combat should you wish to solo.
NOTE : Do not put any empowerment points into the duration or spirit point cost of buffs. For a boost in damage output, increase damage of Bash. For healer-type builds, reduce the cool down of your healing spells for faster healing.
Job Tree
| | | | |
| --- | --- | --- | --- |
| First Job | Second Job | Third Job | Fourth Job |
| Cleric | High Cleric | Paladin | Holy Knight OR Guardian |
You can only choose one of the 4th Jobs for Cleric
Why a Cleric?
Strengths
Second Best Defense and Magical Defense
Only class that can buff others (needs checking)
One of two classes that can heal
Can remove poisons and diseases
Can equip shield
Weaknesses
Low damage output
Has few damage skills
Will easily draw aggro from other players
Base Stats and Equipment
Armor
Weapon
Starting Stats
| | | | | | | |
| --- | --- | --- | --- | --- | --- | --- |
| STR | DEX | END | INT | SPR | HP | SP |
| 5 | 3 | 4 | 1 | 4 | 46 | 32 |
See Also
Quick Beginner's Class Guide ~Hessah
Character Information
edit

All Classes: Experience Table, Basic Stats
Fighter: Guide, Skills, Leveling, Stats
Cleric: Guide, Skills, Leveling, Stats
Archer: Guide, Skills, Leveling, Stats
Mage: Guide, Skills, Leveling, Stats
Trickster: Guide, Skills, Leveling, Stats
Crusader: Guide, Skills, Leveling, Stats