Archer
Help Edit The Wiki! Click Here to Register Now!
From Fiesta Wiki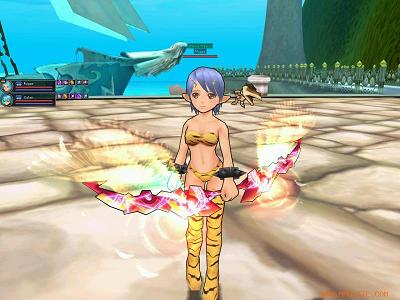 Browse archer pages
---
Description
The Archer aids the party with an assortment of skills and summons the forces of nature to protect them. They are a tactical part of any group, providing dangerous long ranged attacks and strategic support. Once their sights are set on an enemy, resistance is futile. Archers start out with the highest damage output of any class in the game.
The Archer can equip a bow or crossbow. They can only wear armor specific to their class or level. Main attributes are Strength (more damage) and Spirit. This will increase chances for critical hits and add more spirit points.
For your skill empowers (under skills button "K" key), focus on increasing damage output and increasing the cool down of important skills such as Power Shot and Aimed Shot. You can upgrade skills beginning at level 3.
Job Tree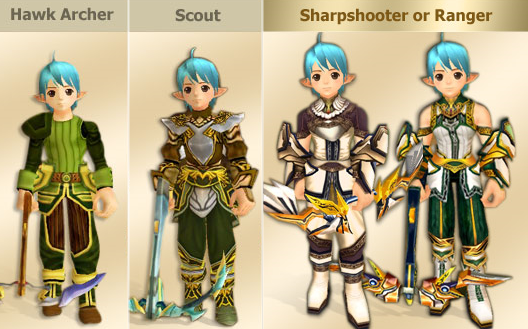 | | | | |
| --- | --- | --- | --- |
| First Job | Second Job | Third Job | Fourth Job |
| Archer | Hawk Archer | Scout | Sharpshooter OR Ranger |
You can only choose one of the 4th Jobs for archer
Why an Archer?
Strengths
Best single target damage dealer (mostly against bosses)[Debatable with Mages]
Has DoTs (damage over time), disease, poison and bleed
Great against bosses
self buff to increase speed of attack
Dex buff to increase evasion
Skill that allows them to reduce the amount of aggro they get
Second highest damage dealer next to Mage starting out.
Weaknesses
Weak against AoE targets
Has no healing ability
Will easily draw aggro from other players early on
Low Hit Points
Low Defense
Base Stats and Equipment
Armor
Weapon
Starting Stats
| | | | | | | |
| --- | --- | --- | --- | --- | --- | --- |
| STR | DEX | END | INT | SPR | HP | SP |
| 4 | 6 | 4 | 1 | 3 | 46 | 24 |
See Also
"xMAGEiSHx" Skill Empowerment Build
Quick Beginner's Class Guide ~Hessah
Character Information
edit

All Classes: Experience Table, Basic Stats
Fighter: Guide, Skills, Leveling, Stats
Cleric: Guide, Skills, Leveling, Stats
Archer: Guide, Skills, Leveling, Stats
Mage: Guide, Skills, Leveling, Stats
Trickster: Guide, Skills, Leveling, Stats
Crusader: Guide, Skills, Leveling, Stats