Status effects
Wiki Editors Needed! Click Here to Register Now!
From Fiesta Wiki
Introduction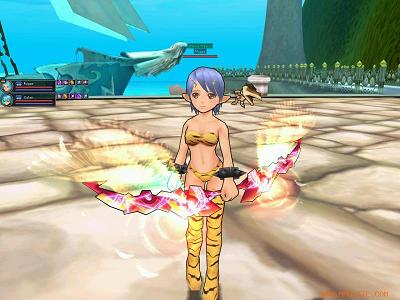 A major aspect of all MMOs are the status effects, they provide an even deeper strategy within the game and provide unique challenges and/or interesting effects. Fiesta Online has a number of these that will either help or hinder a player to complete tasks. Other terms for status effects are known as the buff and debuff. These words tell the difference whether a status effect is helpful or harmful to the player.
A buff is generally a good thing, however some buffs will require you to give something up in order to gain something, and will most of the time be casted by a friend or yourself and can be strategically used to provide even greater benefits. For example, the buff Vitality allows the player to increase their attack temporarily but lowers their defense. This can be used best when the Fighter (class that uses vitality) is partied with a Cleric who can heal the Fighter, thus negating the defense lost leaving the Fighter with greater attack. The Cleric also has the Protect buff which adds defense to the party, helping to negate defense lost. Buffs last in varying lengths the most common times being 1 min and 1 hour.
A debuff is the opposite of buffs (hence "de") meaning that it hinders players to complete tasks. Debuffs are casted by enemies and foes. There are a three catagories of debuffs ranging from DoT (Damage over time), stats reduction and disabling spells. DoT is slow progressive damage which will require you to use more healing items and spells. Fortunately, these spells cannot kill you alone because they will not damage below 1 HP so if you are in a safe place (like a city) then you can`t die. Stats-decreasing debuffs lowers your stats to make it harder for you to kill an enemy and or player by decreasing your ability to do damage or let`s the enemy damage you. Finally, disabling buffs completely stop you from doing anything, from movement or attacking these cannot be removed and are always short in duration.
Buffs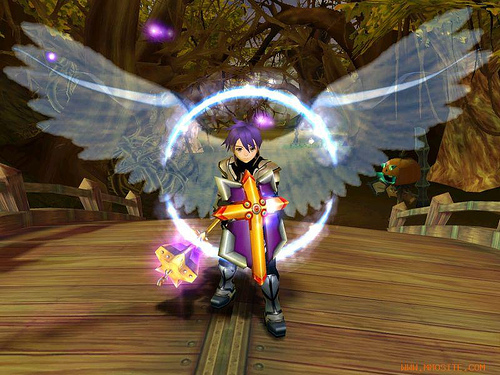 Buffs are spells and items that boost your existing stats and powers which will allow you to more effectively finish monsters and quests. There are several types of buffs
Item buffs
Player buffs
Cash shop buffs
Miscellaneous buffs
Item buffs are where you use an item, they are usually very expensive because they are limited in the amount of times they can be used and they are very rare. However, there are a few exceptions such as antitoxin which is player made so there is, most of the time, a large supply of these. Player buffs are buffs that are cast by players. A prime example is the Cleric's Endure, which increases the targets HP and SP for an hour. A cleric can buff players as they want too. There are other types of buffs that do not fall under the categories of item and player, which are buffs that are attained by doing certain actions, such as marrying someone. Cash shop buffs are buffs that are only available by purchasing them through the Cash Shop, these are generally very useful like the HP/SP extender. Here is a table of known buffs:
List of Buffs
Casting Buffs

Self

Icon
Name
Type
Description
Effect
Duration
Amounts
Stoneskin
Self
Player
Bless one's shield to increase its defense rate.
Increases block rate
1 hour
1%,2%,3%,4%
Toughness
Self
Player
Increase your shield defense rate.
Increases blocking rate.
30 sec
14% (+0.5%)
Vitality
Self
Player
Increase your strength.
Increases attack but decreases defense.
1 min
Increases with tier.

Party

Icon
Name
Type
Description
Effect
Duration
Amounts
Protect
Self/Party
Player
Party's strength and defense increases for a certain amount of time.
Increases attack and defense according to number of people in party.
1 hour
Increases with tier
Resist
Self/Party
Player
Increase party's magic damage and magic resistance.
Increases magic attack and defense according to number of people in party.
1 hour
Increases with tier
Sacrifice
Self
Player
Recover party's HP and SP at the moment of death.
Heals party on death
1 hour
50%,55%,60%,65%,70%

Target

Icon
Name
Type
Description
Effect
Duration
Amounts
Restore
Self/Friendly
Player
Recover target's HP over a specific amount of time. (Every 1.2 second, 15 times.)
Recovers health over time.
18 sec
35,43,54,64,71,80,89,99,107,117,126
Invincible
Self/Friendly
Player
Cast a Holy Shield on your target, making them temporarily invincible.
Absorbs all damage depending on tier.
10-17.5 sec or until max damage is reached
Increases with tier.
Immune
Self/Friendly
Player
Increase party's resistance against poison and disease.
Increases resistance to poison and disease.
1 hour
10%,15%,20%,25%
Endure
Self/Friendly
Player
Increase party's max HP and max SP.
Increases max HP and SP
1 hour
Increases with level

Misc.

Icon
Name
Type
Description
Effect
Duration
Amounts
Academy Buff
All members
Other
Increases attack rate by 5%
Increases attack rate by 5%
Variable
Variable
Power of Love
Self/Partner
Other
The power of love pushes you further.
Increases all stats by 5%
Permanent
5% Self
Power of Love
Partner
Other
The power of love pushes you further.
Increases all stats by 5%
While grouped with spouse
5% Partner (stacked with self)

Item Buffs

Scrolls

Icon
Name
Type
Description
Effect
Duration
Amounts
Aim Scroll
Item
An Aim Scroll, which increases the Aim of your weapon or magic spell.
Increases aim.
1 hour
65,142,229,326,422




Nature's Agility
Item
A Nature's Agility Scroll, which increases your Evasion.
Increases evasion.
1 hour
32,71,114,163,211
Magical Defense
Item
A Magical Defense Scroll, which increases Magic Defense.
Increases Magic defense.
1 hour
37,93,156,226,296




Shield Increase
Item
A Shield Scroll, which increases Defense.
Increases defense.
1 hour
29,72,122,177,232
Vitality
Item
A Vitality Scroll, which increases maximum HP.
Increases max HP.
1 hour
200,500,900,1200,1600
Mentality
Item
A Mentality Scroll, which increases maximum SP.
Increases max SP.
1 hour
200,500,800,1200,1600




Speed Increase
Item
A Speed Scroll, which increases Travel Speed.
Increases movement speed.
1 hour
5%,10%,15%,20%,25%
Concentration Increase
Item
A Concentration Scroll, which increases Intelligence and Critical Rate.
Increases Magic attack and CRIT%.
1 hour
Increases with tier.

Potions

HP Regeneration
Item
A mysterious potion that constantly heals you for HP every second for 15 seconds.
Heals over time.
1 hour
Increases with tier.
SP Regeneration
Item
A mysterious potion that constantly heals you for SP every second for 15 seconds.
Heals SP over time.
1 hour
Increases with tier.
Antibiotic
Item
An antibiotic which increases illness resistance.
Increases Illness resistance.
1 hour
5%,10%,20%




Antitoxin
Item
An antitoxin which increases disease resistance.
Increases disease resistance.
1 hour
5%,10%,20%
Bless
Item
An Bless potion, which increases curse Resistance.
Increases curse resistance.
1 hour
5%,10%,20%




Curse Immunity
Item
An Immunity Potion, which provides Immunity.
No chance of getting a curse.
1 hour
100%




Disease Immunity
Item
An Immunity Potion, which provides Immunity.
No chance of getting a disease.
1 hour
100%
Illness Immunity
Item
An Immunity Potion, which provides Immunity.
No chance of getting a illness.
1 hour
100%
Protection
Item
A Protection Potion, which increases Defense and Magic Resistance.
Increases both defenses.
1 hour
Increases with tier
Quickness
Item
A Quickness Potion, which increases Dexterity.
Increases evasion.
1 hour
Increases with tier
Strength Increase
Item
A Strength Potion, which increases Strength and Critical Rate.
Increases attack and CRIT%
1 hour
Increases with tier

Cash Shop Buffs

Icon
Name
Type
Description
Effect
Duration
Amounts
Charm of Strength
Cash Shop
Increases your damage by 20% for 1 hour.
Increases Damage
1 hour
20%
Charm of Defense
Cash Shop
Increases your defense by 20% for 1 hour.
Increases defense
1 hour
20%
Charm of Might
Cash Shop
Increases your defense and attack by 20% for 1 hour.
Increases defense and attack
1 hour
20% each
HP and SP Extender
Cash Shop
Increases HP and SP by 30% for 2 hours.
Increases max HP and SP
2 hour
30%,50%
Might Potion
Cash Shop
Increases STR,DEX,END,INT,SPR by 10 each for 1 hour.
Increases all stats
1 hour
10 each
Debuffs
List of Debuffs
Curse

Monster Only

Icon
Name
Type
Description
Effect
Duration
Castor
Removal
Amounts
Decrease Critical Rate
Decreases Stats
Curse
Player attains a red color and Critical is lowered.
Lowers Critical Rate
5 min
Monster
Dispel
Divine Magic
1%,2%,3%,4%,5%
Decrease Dexterity
Decreases Stats
Curse
Player attains a red color and Dexterity is lowered.
Lowers Dexterity
5 min
Monster
Dispel
Divine Magic
Increases with Tier.
Decrease Evasion
Decreases Stats
Curse
Player attains a red color and Evasion is lowered.
Lowers Evasion
5 min
Monster
Dispel
Divine Magic
Increases with Tier.
Decrease Speed
Decreases Stats
Curse
Player attains a dark blue color and movement is lowered.
Lowers Movement Speed
5 min
Monster
Dispel
Divine Magic
40%,45%,50%,55%

Monster and Player




Icon
Name
Type
Description
Effect
Duration
Castor
Removal
Amounts
Bone Slicer
Decreases Stats
Curse.
Appearance doesn't change but attack speed decreases
Lowers Attack Rate
5 min, 20 sec
Monster, Player
Dispel
Divine Magic
30%,35%,40%,45%,50%,55%,60%,62%

Player Only

Icon
Name
Type
Description
Effect
Duration
Castor
Removal
Amounts
Demoralize Hit
Decrease Stats
Appearance doesn't change but attack decreases.
Decreases attack
20,30,45,60 sec
Player
Dispel
Divine Magic [?]
62,109,159,203,251,314,376 [?]
Fatal Slash
Decrease Stats
Appearance doesn't change but defense decreases.
Decreases defense
20 sec
Player
Dispel
Divine Magic [?]
13,26,47,70,94,117,147,179,210
Ice Bolt
Stats Decrease
Curse
Appearance doesn't change but movement decreases.
Slows opponent
3 sec
Player
Dispel
Divine Magic [?]
-
Immobilize
Decrease Stats
Appearance doesn't change but dexterity decreases.
Decreases dexterity
20 sec
Player
Dispel
Divine Magic [?]
43,55,66,77,92,106,120




Disable

Monster Only

Icon
Name
Type
Description
Effect
Duration
Castor
Removal
Amounts
Entangle
Disable
Root wrap targets legs, skills can still be used.
Player unable to move
5,10 sec
Monster
Unresolvable
-
Stun
Disable
Target has star floating around their head and will not move.
Stuns
5,10 sec
Monster
Unresolvable
-

Player Only

Icon
Name
Type
Description
Effect
Duration
Castor
Removal
Amounts
Concussive Charge
Disable
Target has star floating around their head and will not move.
Stuns
Depends on Player.
Player
Unresolvable
Depends on Player.




Disease

Monster Only

Icon
Name
Type
Description
Effect
Duration
Castor
Removal
Amounts
Disease
Periodic Damage
Disease
Player attains a dark color and will receive a set amount of damage.
Causes periodic damage in set amounts.
5 min
Monster
Cure
Antidote
54

Monster and Player

Icon
Name
Type
Description
Effect
Duration
Castor
Removal
Amounts
Bleeding
Periodic Damage
Disease
Player attains a red trail following them and will receive a set amount of damage.
Causes periodic damage in set amounts.
5 min. 20 sec
Monster, Player
Cure
Antidote
37




Poison

Monster Only

Icon
Name
Type
Description
Effect
Duration
Castor
Removal
Amounts
Poison Damage
Periodic Damage
Disease
Players turns greenish color and will receive a set amount of damage.
Causes periodic damage in set amounts.
5 min
Monster
Cure
Antidote
17,54,89,112

Player Only

Icon
Name
Type
Description
Effect
Duration
Castor
Removal
Amounts
Poison Shot
Periodic Damage
Disease
Player attains a dark green color and will receive a set amount of damage.
Causes periodic damage in set amounts.
5 min
Player
Cure
Antidote
7,14,23,32,40,49,59,70
Venomous Shot
Periodic Damage
Poison
Players turns darkish color and will receive a set amount of damage.
Causes periodic damage in set amounts.
5 min
Player
Cure
Antidote
31,38,45,52,61,69,77
See Also